Design, implementation and management
of applied solutions
LPWAN networks
We provide complete services and solutions based on Internet of Things using LPWAN (Low Power WAN) networks.

Endurance
Modems have low power consumption during transmission and zero power consumption in idle mode, and are thus capable of enduring several years.

Coverage
LPWAN networks have a range in the order of kilometres, which makes the network efficient.

Efficiency
Connectivity costs are significantly lower compared to other transmission technologies.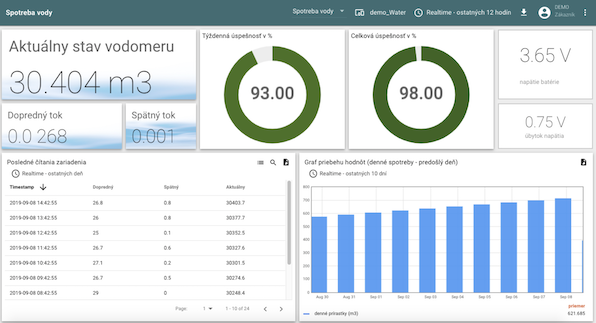 Software support
We provide a complete solution, including a software tool for data visualisation.
We also offer to our customers the possibility of direct data visualisation in our cloud infrastructure. The data is both stored and visualised with us, including the option of setting up email or SMS notifications. Implementation is very simple and fast, data can be seen immediately upon sensor activation.
Sensors by segments
We provide a wide range of ready-made sensors or modem integration for a specific sensor for selected segments.
Operation of companies
Sensors for monitoring machine start-ups and failures, energy load, vibrations.
Environment
Sensors for monitoring air temperature and humidity, wind strength and direction, groundwater levels. Sensors can also be used to monitor river water levels to prevent flash floods.
Smart City
Monitoring of air quality parameters, occupancy of parking lots, energy efficiency of buildings, prevention of forest fires, local floods or entry into forest stands.
Safety
Sensors of entrances to buildings, opening doors and hatches or monitoring the movement of equipment. We offer special equipment for enhancing safety (occupational health and safety) of employees.
Keners Ltd. is an IoT integrator focusing on specific (B2B) segments of all network industries such as energy, water supply and heating, as well as solutions in the field of monitoring individual components of the environment with an overlap into agriculture.
Our solutions are characterised by specificity, where we implement the integration of high-precision measuring systems with the LPWAN broadcast radio.

Company is certified by ISO 9001 and ISO 14001.
Keners Ltd.
Mlynské Nivy 54
(Inforama building)
821 05 Bratislava

Company reg. No.: 50327267
Tax reg. No.: 2120302811
VAT reg. No.: SK2120302811
keners[at]keners.sk
Personal data processing